Luxury Barge Cruises, Tulip Cruises on the Canals and Waterways of Holland ...
Join with Friends or Book a Cabin for Customized Excursions, Top Cuisine and Wines, a Memorable Week
The most unique way to visit Holland ... Relaxed and pampered encounter with the treasures of Holland aboard a floating hotel! From the end of March through May, luxury hotel barge cruises offer the most unique and pampered way to visit Holland. With a knowledgeable crew to guide you and to cater to your every need, you can relax for a wonderful week of cruising and leisurely, personalized touring of the magnificient displays of tulips at the Keukenhof, pottery artists in Delft, cheesemaking in Gouda, art by Dutch masters, cruises and cycling through the countryside with Holland's windmills and flowers in the fields, and more.
A cruise on a luxury hotel barge is quite unlike any other way to travel. From exceptional cuisine prepared by an on-board master chef with paired wines, and attention from crew, to personalized excursions led by your barge crew, exploring unique and often little-known destinations on side trips each day in the barge's mini-van or coach, the entire week is relaxing, fun, and memorable.
Tap or Click on the website links to each barge in the list, below, to see complete descriptions of each of the luxury hotel barges cruising in Holland. Then call or email us to assist you in choosing the right barge for your cruise week, and to work with you to complete all the details of your cruise in Holland. We are here to help right when you first start your planning. We've been aboard all the barges cruising in Holland and we've been aboard nearly all of the hotel barges in Europe, and can advise you about the best barges, the differences between each of the regions, and the best way to get there.
---
LA NOUVELLE ETOILE
(Ultra Deluxe, 8-passengers)
LA NOUVELLE ETOILE
HOLLAND ITINERARY
BARGE PHOTOS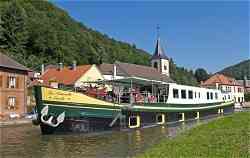 Cruises in Holland April to mid-May, then 12-day cruise through Holland, Belgium and France, then cruises in Burgundy, Upper Loire, Champagne, Alsace, and Germany. Beautiful, elegant salon/dining area with picture windows. Spacious suites (over 200 sq ft) with twins or queen beds with ensuite bathroom with shower, computer/TV, picture windows. Elevator. One suite wheelchair accessible. Washer/dryer for guest use. Jacuzzi on deck. Owners on board are captain and manager. Gourmet cuisine and fine wines. Includes Amsterdam, Paris, Strasbourg or Frankfurt transfers depending on the cruise route. Latest visit: 2010
---
PANACHE
(Deluxe, 12-passengers)
PANACHE
HOLLAND ITINERARY
BARGE PHOTOS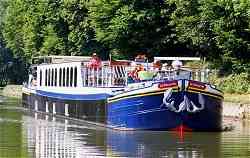 Cruises in Holland April to late May, cruises in Champagne June to July and then moves to Alsace through October. Elegant, modern decor with big picture windows in salon, dining room. Cabins about 150 sq ft with twin or queen beds, TV, and good sized windows and including large ensuite bathroom with double sinks and oversized shower. Jacuzzi on deck. Gourmet cuisine and fine wines. One dinner on shore included. Amsterdam, Paris, or Strasbourg transfers included, depending on cruise route. Latest visit: 2017
---
SAVOIR FAIRE
(Deluxe, 12-passengers)
SAVOIR FAIRE
HOLLAND ITINERARY
BARGE PHOTOS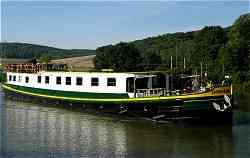 Cruises Holland in the spring, then from Bruges to Paris, spends the summer in Northern Burgundy, cruises in Champagne in September and then back to Bruges in October. Elegant barge with mahogany paneling, piano and large salon/dining room with large windows. Separate bar at stern. Two sun decks. Five cabins 116 sq ft, bow cabin 142 sq ft, all with twin or queen beds and ensuite bathroom with shower. Owner on board as captain. Gourmet cuisine and wines. Includes transfers from Amsterdam, Bruges, or Paris to the barge and return, depending on route. Latest visit: 2013
---
LINKS to Barge Cruise Listings
---
Email us at: info@bargesinfrance.com
This page last updated April 3, 2018